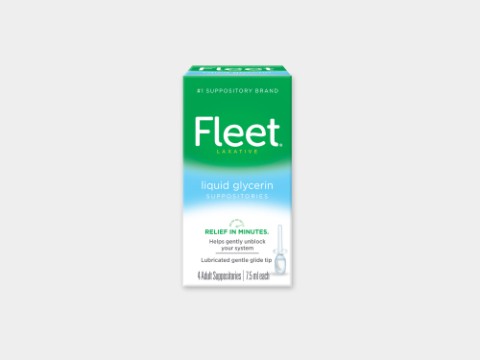 Fleet® Liquid Glycerin Suppositories
Promotes a Bowel Movement Within Minutes
Fleet® Liquid Glycerin Suppositories provide fast relief for occasional constipation with a no-mess applicator, lubricated gentle glide tip and no need to wait for the suppository to dissolve because it's already in liquid form. Doctor-recommended glycerin works by attracting water into the stool to promote a bowel movement.
The Fleet® Liquid Glycerin Suppository is inserted rectally, allowing it to act locally in the colon without having to go through the entire digestive system.
(in each 5.4 mL average delivered dose)
Dosage Information
Adults and children, 6 years and over: One suppository, or as directed by a doctor, (per 24 hours).
Children between 2 and 6 years: Use Pedia-Lax® Liquid Glycerin Suppositories.
Children under 2 years: Ask a doctor.
Use for relief of occasional constipation
For rectal use only. May cause discomfort or burning sensation.
Ask a doctor before using any laxative if you have
Abdominal pain, nausea or vomiting
A sudden change in bowel habits lasting more than 2 weeks
Already used a laxative for more than 1 week
If constipation continues after one week of use, contact your doctor
Stop use and ask a doctor if you have
Rectal bleeding
No bowel movement within 1 hour of using this product
These symptoms may indicate a serious condition
Keep out of reach of children to prevent accidental ingestion. If swallowed, get medical help or contact a Poison Control Center right away.
Read full safety warnings: