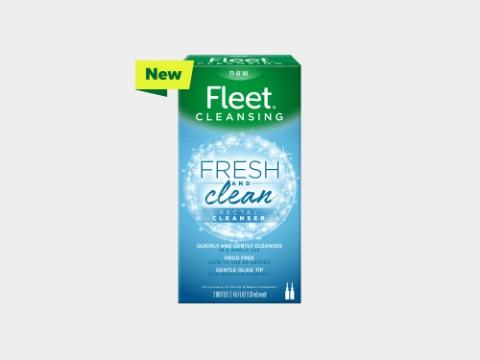 Fleet® Fresh and Clean 

Rectal Cleanser
Quickly and gently cleanses in a single use
Fleet® Fresh and Clean Rectal Cleanser was developed to help you clean your body on the inside with a drug-free, saline solution made with purified water that's safe enough for daily use. The mild solution cleanses by immediate flushing action. Each bottle is premeasured for convenience and disposable for sanitary protection.
Lubricated gentle glide tip for maximum comfort and ease of use.
Cleanser: water, sodium chloride, benzalkonium chloride, edetate disodium
Comfortip® lubricant: glycerin, water, propylene glycol, sodium polyacrylate, polyacrylic acid, methylparaben, propylparaben
Safe for daily use.
If pregnant, ask a healthcare professional before use.
Remove green wrapper with Fleet emblem and tan protective shield from Comfortip® before inserting.
With steady pressure, gently insert tip into rectum with a slight side-to-side movement, with tip pointing toward navel. Insertion may be easier if person bears down, as if having a bowel movement. This helps relax the muscles around the anus.
Do not force the nozzle into rectum as this can cause injury.
If resistance is encountered on insertion of the nozzle or in administering the solution, the procedure should be discontinued.
Squeeze bottle until nearly all liquid is gone. It is not necessary to empty the bottle completely.
Remove nozzle from rectum and maintain position until urge to evacuate the fluid is strong.
Positions for using this product:
Standing position: Stand with one knee raised (stepping on/supported by stable surface such as a toilet or side of a bathtub).
Left Side position: Lie on left side with knee bent and arms resting comfortably.
Knee-Chest position: Kneel then lower head and chest forward until left side of face is resting on surface with left arm folded comfortably.
For rectal use only.
Warnings:
This product is not a laxative. Do not use to relieve constipation.
Do not re-use bottles and nozzles. One-time use only.
Call a doctor if fluid does not evacuate.
If pregnant, ask a healthcare professional before use.
Other Information:
Latex-safe lubricant tip
Do not use to self-treat or prevent an STD.