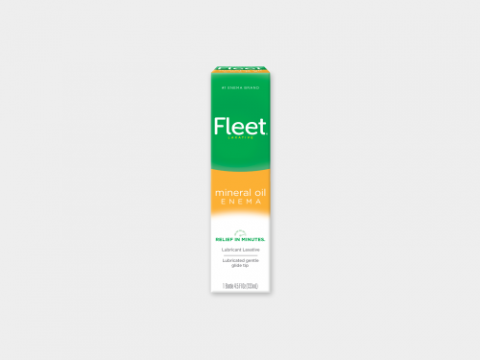 Fleet® Mineral Oil Enema
Works in 2-15 Minutes
Fleet® Mineral Oil Enema is a lubricant laxative that lubricates and softens the stool to produce a bowel movement. It is a good option if stools are very hard or difficult to pass or if you need avoid straining, especially if you are recovering from surgery, childbirth or if you suffer from hemorrhoids.
Lubricated gentle glide tip for maximum comfort and ease of use. 
(in each 118 mL delivered dose)
Dosage Information
Adults and children, 12 years and over: One Bottle, (per 24 hours).
Children between 2 and 11 years: One-half bottle.
Children under 2 years: DO NOT USE.
For relief of fecal impaction
For relief of occasional constipation
For removal of residue after barium administration
For rectal use only. If pregnant or breastfeeding, ask a health professional before use.
Do not use when abdominal pain, nausea, or vomiting are present unless directed by a doctor
Ask a doctor before using any laxative if you have
Abdominal pain, nausea or vomiting
A sudden change in bowel habits lasting more than 2 weeks
Already used a laxative for more than 1 week
if constipation continues after one week of use, contact your doctor.
Stop use and ask a doctor if you have
Rectal bleeding
No bowel movement within 15 minutes of using this product
These symptoms may indicate a serious condition
Keep out of reach of children. If swallowed, get medical help or contact a Poison Control Center right away.
Read full safety warnings: