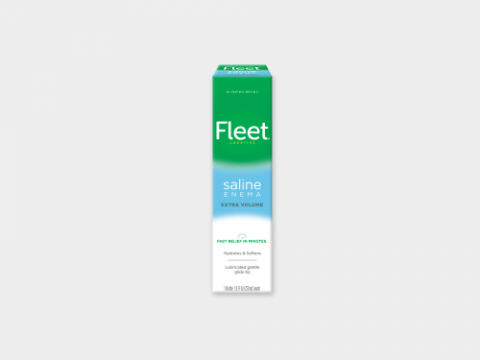 Fleet Enema Extra®
Extra Relief and Extra Cleansing in Just 1-5 Minutes
Fleet Enema EXTRA® has 70% more volume than our standard Fleet® Enema. It's a great, fast-acting solution when you are experiencing constipation or if your stool is hard or difficult to pass.
Like our standard Fleet® Enema, Fleet Enema EXTRA® works by increasing water in the intestine to hydrate and soften the stool and help produce a bowel movement without pain or spasm. Fleet Enema EXTRA® is also ideal for bowel cleansing before undergoing a rectal examination.
Lubricated gentle glide tip for maximum comfort and ease of use. 
FDA MedWatch Drug Safety Communication: Sodium Phosphate Over-the-Counter Products
(in each 197 mL delivered dose)
| | |
| --- | --- |
| Monobasic Sodium Phosphate Monohydrate | 19 g |
| Dibasic Sodium Phosphate Heptahydrate | 7 g |
Dosage Information
Adults and children, 12 years and over: One Bottle, (per 24 hours).
Children between 2 and 11 years: use Pedia-Lax Enema.
Children under 2 years: DO NOT USE.
Use for relief of occasional constipation.
For rectal use only.
Dosage Warnings
Using more than one enema in 24 hours can be harmful. Do not use without asking a doctor
For more than 3 days
If you have kidney disease
If you have heart problems
If you are dehydrated
When abdominal pain, nausea, or vomiting are present unless directed by a doctor
Ask a doctor before using this product if you
Are 55 years old or older
Are on sodium-restrict diet
Have a sudden change in bowel habits lasting more than 2 weeks
Already used a laxative for more than 1 week
Stop use and ask a doctor if you have
Rectal bleeding
No bowel movement or no liquid comes out of the rectum after 30 minutes
Symptoms of dehydration (feeling thirsty, dizziness, vomiting, urinating less often than normal)
These symptoms may indicate a serious condition
If pregnant or breastfeeding, ask a health professional before use. Keep out of reach of children. If swallowed, get medical help or contact a Poison Control Center right away.
Read full safety warnings: