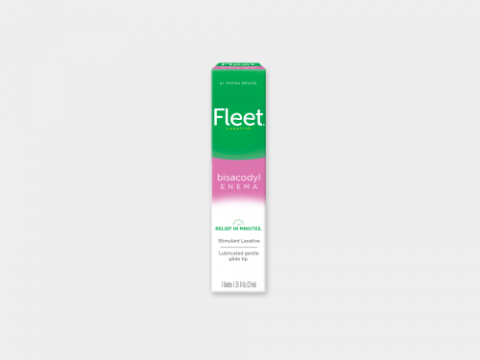 Fleet® Bisacodyl Enema
Fast Acting, Reliable Relief Within 5-20 Minutes
Like our other enemas, Fleet® Bisacodyl Enema provides fast relief from occasional constipation and can be used for bowel cleansing before rectal examinations. Bisacodyl is the active ingredient that directly stimulates the intestine to increase rhythmic action that pushes feces through the bowel. Fleet® Bisacodyl Enema is sodium phosphate-free and latex-free.
Lubricated gentle glide tip for maximum comfort and ease of use. 
(in each 30 mL delivered dose)
Dosage Information
Adults and children, 12 years and over: One bottle (per 24 hours).
Children under 12 years: DO NOT USE.
Use for relief of occasional constipation or bowel cleansing before rectal examination.
For rectal use only.
Do not use when abdominal pain, nausea, or vomiting are present unless directed by a doctor
Ask a doctor before using any laxative if you
Have a sudden change in bowel habits lasting more than 2 weeks
Already used a laxative for more than 1 week
This product may cause abdominal discomfort, faintness, rectal burning, and mild cramps.
Stop use and ask a doctor if you have
Rectal bleeding
No bowel movement within 20 minutes of using this product
These symptoms may indicate a serious condition
If pregnant or breast-feeding, ask a health professional before use.
Keep out of reach of children. If swallowed, get medical help or contact a Poison Control Center right away.
Read full safety warnings: